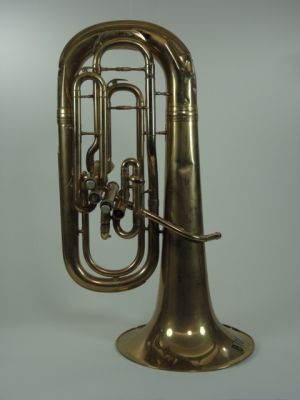 NMM 13,827 Holton Euphonium
Leonard Falcone Artist Model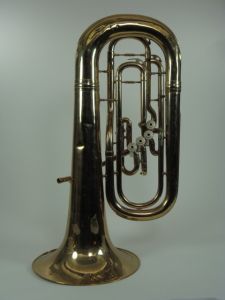 This instrument was endorsed by Dr. Leonard Falcone and he also assisted in its design. Dr. Falcone was a legendary soloist on baritone horn and Director of Bands at Michigan State for over 40 years. 
Falcone also helped design the B100 Baritone (Euphonium). 
The 1978 Catalog lists this instrument as:  Model B-101 Four valves, upright bell. Our finest baritone, designed in collaboration with Leonard Falcone, commands a free singing tone, especially in the upper registers and a rich brass sound with delightful articulation. Regardless of technical demands all notes in raped passages are clean and distinct. Stationary bell. Solid brass. Bore, .562 (14.27 mm.).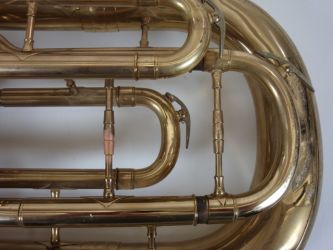 valve slides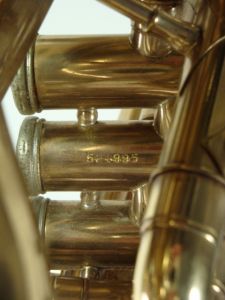 serial number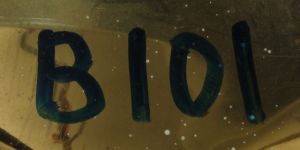 marking on bell
Measurements:
Model: B101 Falcone Artist
Serial number: 521995
Bell diameter: 300 mm. (11-13/16")
2nd valve bore:  14.1 mm (.558")
2nd valve casing inner diameter:   20.8 mm (.819")
Sounding length:   2632 mm (103-6/16")
There will be many references to NMM on this website, which refers to the National Music Museum in Vermillion, South Dakota. If you have any interest in the history of musical instruments, I encourage you to click on the link to their webpage below and learn about one of the finest institutions of its kind, anywhere.